About HMCA
HMCA is a wholly-owned subsidiary of FONAR Corporation (NASDAQ-FONR), the maker of the Upright® Multi-Position™ Weight-Bearing MRI, also known as The Stand-Up® MRI.
Formed in 1997, HMCA provides non-medical management services for diagnostic imaging centers, predominantly Stand-Up® MRI facilities. The company helps clients by effectively promoting their centers, enhancing the quality of service and, thereby, improving profitability.
In 2013, HMCA acquired through a majority interest in a newly formed limited liability company known as Health Diagnostics Management, LLC (HDM), a business managing 14 MRI centers, including 12 Stand-Up® MRI centers in Florida and New York, thereby doubling the size of HMCA.
Located on Long Island (Melville), New York, HMCA is experienced in every aspect of non-medical office management. The company's Centralized Management Services include:
Facility Staffing
Radiology Support
Billing and Collections
Credentialing and Contracting
Human Resources
Marketing
Compliance
Purchasing
Accounting
Office Management
Reporting
Information Technology (IT) Support
Transcription
Collectively, key members of HMCA's senior management team bring over 150 years of experience in operating and managing diagnostic imaging facilities,
At present, HMCA, including HDM, employ approximately 300 full-time employees and manage 24 Stand-Up® MRI (or Upright® MRI) centers in New York and Florida.
Stand-Up MRI Locations
Florida Locations
Stand-Up MRI of Boca Raton, FL
Stand-Up MRI & Diagnostic Center, Ormond Beach, FL
Stand-Up MRI of Ft. Lauderdale, FL
Stand-Up MRI of Miami, FL
Stand-Up MRI of South West Florida, Naples, FL
Stand-Up MRI of Orlando, FL
Stand-Up MRI of Tallahassee, FL
New York Locations
Stand-Up MRI of the Bronx, NY
Stand-Up MRI of Bensonhurst, NY
Stand-Up MRI of Brooklyn, (Park Slope) NY
Stand-Up MRI of Carle Place, NY
Stand-Up MRI of Deer Park, NY
Stand-Up MRI of East Elmhurst, NY
Stand-Up MRI of East Setauket, NY
Stand-Up MRI of Islandia, NY
Capital Region Upright MRI, Latham, NY
Stand-Up MRI of Lynbrook, NY
Stand-Up MRI of Manhattan, NY (Downtown)
Stand-Up MRI of Manhattan, NY (Uptown)
Stand-Up MRI of Melville, NY
Stand-Up MRI of Queens, (Flushing) NY
Stand-Up MRI of Staten Island, NY
Stand-Up MRI of Wantagh, NY
Stand-Up MRI of Yonkers, NY
For MRI diagnostic Imaging centers interested in outsourcing the management of the non-medical aspects of their practices, HMCA may be their solution.
By engaging HMCA, physicians/radiologists can spend more time and energy focusing on the medical side of their practices rather than contending with certain administrative tasks that they may find mundane or simply prefer not to deal with.
HMCA has the staff, expertise, organization, experience and tools necessary to assume the responsibility of all non-medical services, including facility staffing, radiology support, billing and collections, credentialing and contracting, human resources, marketing, compliance, purchasing, accounting, office management, reporting, transcription, and IT.
Besides relieving physicians of the unwanted managerial burdens, practices stand to benefit from HMCA's strengths in other ways, including improved operational efficiency at the offices; cost savings attributable to economies of scale, high-volume purchasing discounts, national accounts, and participation with GPO's; long-standing working relationships with many health care organizations and payors; proven marketing strategies; and access to state-of-the-art equipment, systems and software solutions – each with the very real potential of improving profitability.
It is important to point out that HMCA, in full recognition and support of physician autonomy, has neither input nor any responsibility regarding medical matters.
HMCA specializes in the management of diagnostic imaging centers that feature the FONAR Stand-Up® MRI, also known as the FONAR UPRIGHT® Multi-Position™ MRI.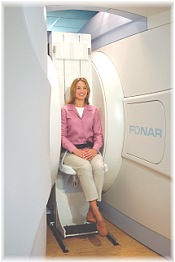 The Stand-Up® MRI is the only MRI scanner that allows patients to be scanned with the patient in any position, including standing, sitting, bending or lying down.
As a result of its unique ability to scan patients in weight-bearing positions the Stand-Up® MRI has detected problems that would have gone undetected on conventional lie-down scanners.
The Stand-Up® is the only true Open MRI. Patients typically sit and watch a big-screen TV throughout their scans. Claustrophobic reactions are nearly non-existent.
All Stand-Up® MRI centers managed by HMCA feature:
"Non-Claustrophobic," Quiet and Comfortable MRI Scanners
No "Tunnel," No "Tube"
High-Quality Diagnostic Imaging
Board-Certified Radiologists
ACR-Accredited Facilities
Quick Report Turnaround
Same-Day Reads Upon Request
Easy and Convenient Scheduling
Early Morning, Late Evening and Weekend Appointments Available
A Courteous and Competent Staff
Medicare, Workers' Compensation, No-Fault, PIP
Most Insurances and HMO's Accepted
Payment Plans Available for Qualified Patients
Transportation for Qualified Patients